Description
Show multiple images, project thumbnails, html5 videos or texts in a slideshow. Choose from three different carousel styles: "sliding (swipeable)", "fade" or "no transition". Features captions and numbers like "1/4" or circles as navigation, autoplay and random order.
Compatible with all other Lay Theme Addons. Only works with Lay Theme.
How to Install
Download the zip file after your purchase, then follow these steps:
Log in to your WordPress admin area at "http://yourwebsite.com/wp-admin/"
Go to "Plugins" → "Add New"
At the top click "Upload Plugin"
Upload the .zip file and click on "Install Now"
Afterwards click "Activate Plugin"
How to Use
Add a Carousel to a project, page or category in the Gridder by clicking "+Carousel".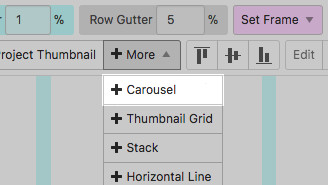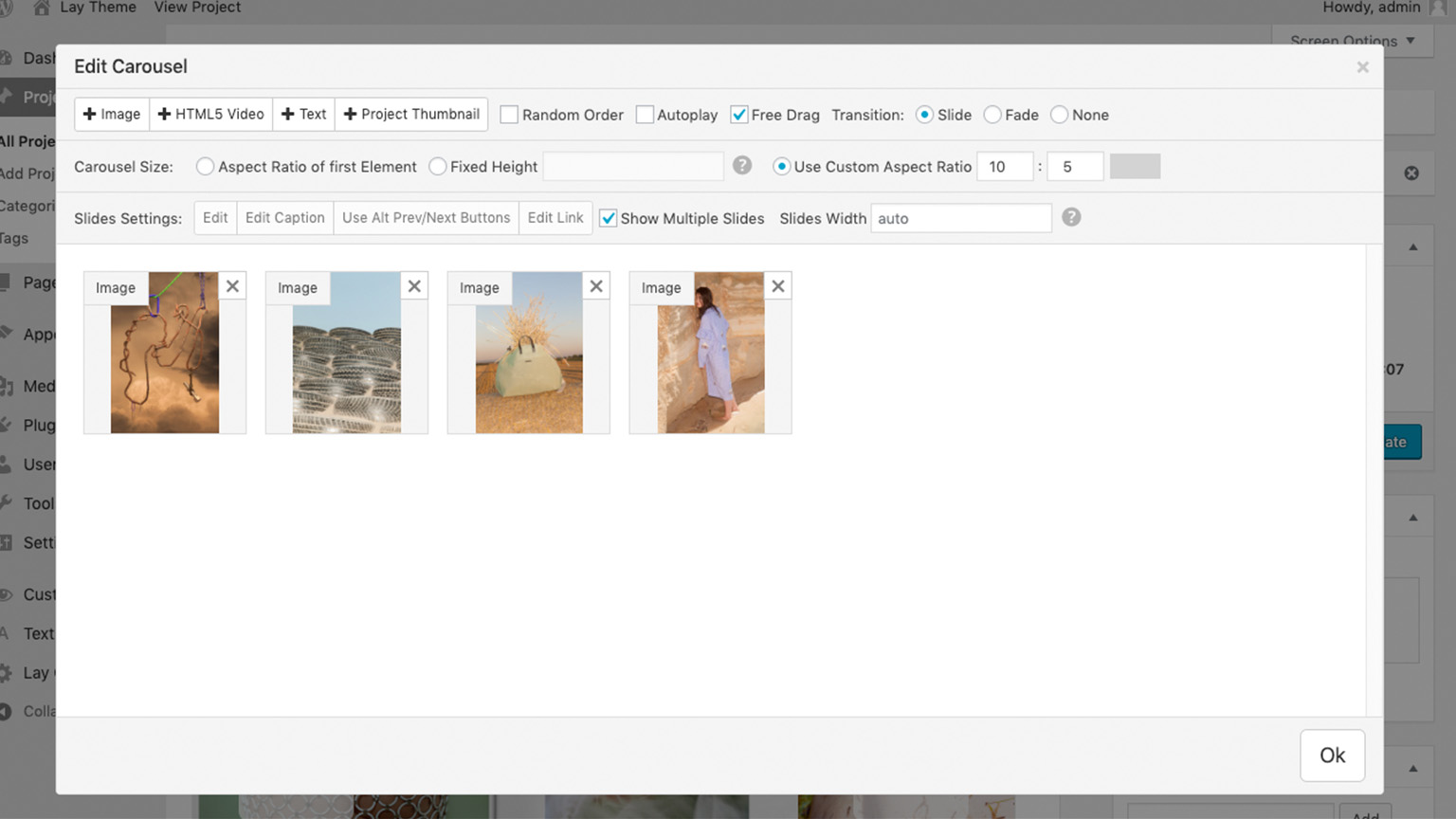 In the carousel modal you can add images, html5 videos, texts or project thumbnails. You can use captions and activate "autoplay" and "random order".
"Random order" will randomize the order of the images every time you refresh your browser. If "Use Custom Aspect Ratio" is checked, you can define a custom ratio that all images will fit in.
"Fixed Height:" Enter "100vh" here to have a browser-height-filling carousel.
Carousel Options
After you installed the Addon, find the Carousel options in "Lay Options" → "Carousel Addon".
These are the available options:
General
Transition Types: "Slide (swipeable)", "Fade" or "No Transition"
Position of Captions, Numbers and Circles: "On top of Carousel", "below Carousel"
Align Captions and Numbers to width of slides
Autoplay Speed in milliseconds
Pause Autoplay on Mouseover
Lazyload images
Vertical Alignment of Slides: "top", "middle" or "bottom"
Vertical Alignment of Text Slides: "top", "middle" or "bottom"
Horizontal Space around Text in Slides (px)
Mouse Cursor
Mouse Cursor Controls: "Previous" and "Next" Cursors, Only "Next" Cursor, "Pointer" Hand Cursor, "Grab" Hand Cursor (for "Slide" transition type), No Cursor
Set Custom Cursor images for "Next" and "Previous" Cursors
Circles as Navigation
Show Circles
Space Top/Bottom
Captions
Show Captions
Position: left, right, center
Textformat
Space Top/Bottom
Space Left/Right
Numbers
Show Numbers (for example "1/4")
Position: left, right, center
Textformat
Space Top/Bottom
Space Left/Right
Previous/Next Buttons
Show Buttons
Custom "Next" Button ("Previous" button will be the mirrored version of this)
Custom Alternative "Next" Button
Space between buttons and edge of carousel